NATIONAL DOGS IN YELLOW DAY
#dogsinyellow
On March 20th let's celebrate our Yellow Army with #dogsinyellow
Every day is a dedicated day to owners of anxious and reactive dogs but on this special day we can make it an awesome one.
A chance to really educate others to understand our dogs in yellow.
Education and awareness are the ways forward.
"Friendship is born at that moment when one person says to another,
"What! You Too? I thought I was the only one" C S Lewis
Want to get involved?
Let's make March 20th an amazing opportunity to raise awareness for our special dogs.
If you're in our yellow army, let's get our dogs in yellow trending.
Why did I want to create a national #dogsinyellow day?
My name is Sarah Jones and this is "My Anxious Dog" Bella. Bella was attacked by another dog when she was a puppy and this is where her fear of dogs started, it left her terrified. She would react to other dogs if they came too close either growling or lunging because she was scared. It prompted pitiful looks from passers by, as if you were stupid to own so a vicious or aggressive dog. It felt so infuriating to watch people tut, and drag their dog away once they have managed to grab their collars! People just don't realise what some of these anxious dogs have been through. So I wanted to find a way for our #dogsinyellow to be understood. Through compassionate awareness-raising, we will reach more unknowing dog owners and spread the understanding far and wide.
All our #dogsinyellow want and need is some space, and then the world feels much less frightening.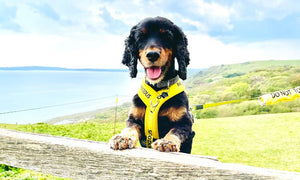 If you're in our yellow army, let's get our dogs in yellow trending.
Post a photo, or lots of your gorgeous anxious dog and don't forget the hashtag #dogsinyellow
Treat your dog (I know, we do it every day)
Maybe plan a small fundraiser or donate to a dog rescue in celebration of your anxious dog.
Make some homemade treats.
Ask your local vet to display our awareness posters so everyone that sits in the waiting room can read what a dog wearing yellow means.
things are never quite as scary when you've got a best friend
Share your day with us
Please share on Instagram, Facebook or Twitter using #dogsinyellow @myanxiousdog
So we can share all your stories and photos
Be Proud of Your Yellow

Celebrate their quirks, tell their story and have fun because sometimes owning and walking an anxious or reactive dog can be challenging and stressful.