Yellow Space Awareness Double ended training lead with carabiner clips
My Anxious Dog has launched the ultimate training lead with 2 carabiner clips.
This newly designed lead is to give owners peace of mind. Its twisting lock is harder to unclip than a standard lead so it feels strong and secure. Ideal when walking with a reactive dog that can lunge.
It is multi-functional and  perfect for using with a harness to stop pulling. It allows two points of contact making dog walking easier and more pleasurable as it stops dogs pulling on a lead and reduces lunging and its impact on the owner. Attaching your lead like this can help influence your dog's posture, helping them find their own natural balance and can assist in the prevention of pulling because the dog cannot pull forward in a straight line.
The multiple heavy duty O rings on the lead means it can be used as a normal lead of varying lengths, the possibilities are endless. It can be used short, medium or long lead, around the waist and go hands free.
It's 2M long and made from yellow nylon, so soft and secure to hold even in the wet. A new feature is the reflective stitching for the dark winter walks.
The new leads are 2.5cm wide for bigger dogs and now with 2 carabiner clips at each end making it the ultimate safety lead, which adds security and peace of mind. The rotating clip also stops the lead from twisting.
A versatile tool that every anxious dog owner should have in their collection.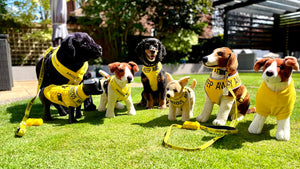 Helping you to let others know your dog needs space - join our yellow army #dogsinyellow