Yellow #dogsinyellow need space t-shirt
Introducing the "Dogs in Yellow" Space Awareness T-Shirt! This unique and eye-catching t-shirt is designed specifically for dog owners who want to raise awareness about their dog's need for personal space. By wearing this shirt, you'll communicate to others that your furry friend requires a little extra distance and respect.
The front of the t-shirt proudly displays the hashtag #dogsinyellow, emphasising the importance of dogs in need of space. This catchy phrase instantly draws attention and invites conversation, making it an effective tool for spreading awareness. The vibrant yellow colour is chosen deliberately to act as a visual cue for others, signalling that your dog requires some breathing room.
On the back of the t-shirt, you'll find the empowering message, "A little distance goes a long way." This simple yet powerful statement serves as a reminder to everyone that by respecting a dog's need for space, we contribute to their overall well-being and happiness. It encourages individuals to approach with caution and give your dog the personal space they require.
Crafted from high-quality, soft, and breathable fabric, this t-shirt ensures comfort throughout the day. Its unisex design and range of sizes make it suitable for all dog owners. Whether you're walking in the park, visiting a pet-friendly establishment, or simply going about your daily activities, this t-shirt acts as a friendly warning to others, fostering understanding and promoting responsible dog ownership.
By wearing the "Dogs in Yellow" Space Awareness T-Shirt, you become an advocate for dogs who may be anxious, in training, recovering from an illness or injury, or simply prefer to keep their distance. It's a stylish and effective way to convey your dog's needs and educate others about the importance of respecting every pup's personal space. Join the movement and make a positive impact on the lives of dogs and their owners everywhere!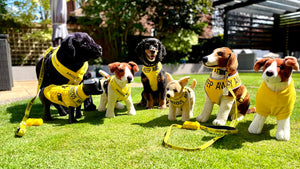 Helping you to let others know your dog needs space - join our yellow army #dogsinyellow