My Anxious Dog Strong Carabiner Dog Lead 1.8m ANXIOUS lead slip & Poop Porter set
This high-quality dog lead is made from hard-wearing, strong, weather-resistant nylon. All fastenings are double stitched with strengthened thread so you can be confident that this lead will last and last.             
Secure locking carabiner lead 1.8M. 3M Scotchlite nylon reflective lead, 0.8cm diameter keeps you visible in low light conditions.
The aluminium-alloy carabiner clip has a twist-locking feature that secures to your dogs collar or harness to the lead
Neoprene padded handle for extra comfort is soft to hold in the hand. The design means it is non-slip so you can hold the handle tight on your wrist for added "snatch" protection.
Secure lightweight aluminium-alloy attachments reinforce handle and connection point
Our "My Anxious Dog" carabiner leads are designed to keep your dog safe.
Every dog owner knows that it can be annoying and inconvenient to carry a used poop bag around until we find a bin or get home. This is where My Anxious Dog Poop Porter comes in, simply clip to the lead via the poop bag holder.....keeping your hands free for giving out those treats.
To use just slip the knot of the used poop bag through the large hole, and the Poop Porter will keep a hold of it for you.
This poo bag holder clip is also easy to use and can easily be attached or removed from any lead.
No more holding steamy poop bags
Our Yellow warning dog lead slip/cover for anxious dogs that need their space.
Embroidered both sides so will not fade when washed.
Reflective trim on the top and bottom for the dark winter evenings.
Dimensions are approx 24cms x6cms with popper fastener to hold the lead cover in position.
Washable at low temperatures
Will fit most leads and perfect on our yellow double ended training lead
If you have an anxious dog let others know they need space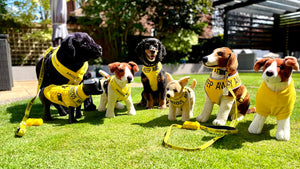 Helping you to let others know your dog needs space - join our yellow army #dogsinyellow