Sodapup Ultra-tough Treat Dispenser & Chew Toy - Black
Help your anxious dog fight boredom by filling the Can Toy with treats like kibble, canned dog food, peanut butter, or your favorite dog treat recipe. Best results: mix wet/dry foods. Freeze with treats inside to prolong use.
Reduces problem chewing, helps reduce boredom, and relieves separation anxiety.
MAGNUM STRENGTH: Our proprietary magnum compound has a special additive for increased tear strength. If your dog destroys everything, then Magnum products are the best choice.
Material is FDA compliant, non-toxic and biodegradable. It is sustainably harvested helping us reduce our carbon footprint. 
Dishwasher safe and easy to clean!
MEDIUM: 3.32" tall x 1.875" wide. Weight: 4.1 oz. For dogs 0-35 lbs/0-15 kg.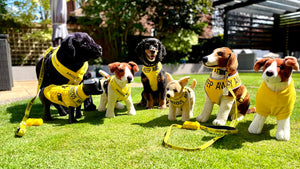 Helping you to let others know your dog needs space - join our yellow army #dogsinyellow