My Anxious Dog Padded Non-Pull Y Harness Size 5
Empowering Anxious Paws with Comfort and Confidence.
Our new harness combines comfort, convenience, and safety to provide the ultimate experience for both you and your dog during walks, hikes, runs, and jogs.
Designed with a new shape specifically tailored to accommodate larger chests, this harness ensures that the straps are positioned away from the dog's sensitive armpits.
Created for ease of use in mind, this harness features quick snap buckles that make it effortless to put on and take off. The fully adjustable straps ensure a snug and secure fit around your dog's body, allowing for a customised fit that can be easily adjusted as needed.
To enhance control and minimize stress on your dog's neck, we've incorporated two anti-corrosion D rings on the chest and back of the harness. If your dog tends to pull, you can attach our double-ended lead to both rings, distributing the force evenly and allowing you to effectively manage their movements.
Safety is our top priority, and that's why our "Tranquillity Companion"  harness includes reflective material woven into the nylon webbing. This feature guarantees excellent visibility during dark winter nights, providing added peace of mind when venturing out in low-light conditions.
Comfort is paramount, which is why we've gone the extra mile to ensure your dog's comfort during wear. The harness incorporates a sponge material around the neck area, providing a soft and gentle touch.  Additionally, the adjustable strap around the body is lined with a fleece strap to prevent any rubbing or discomfort.
We understand the importance of peace of mind, which is why we've included a secret pocket in the harness. This pocket allows you to discreetly hide an air tag, offering an additional layer of security in case your dog ever goes missing.

Neckline is 58cm
Chest measurement 70-90cm
Suitable for Labradors, Flat Coated Retrievers, Dalmatians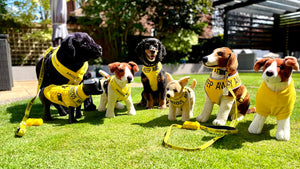 Helping you to let others know your dog needs space - join our yellow army #dogsinyellow