IGNORE MY DOG Lead Slip & Badge
Introducing the My Anxious Dog "IGNORE MY DOG" Yellow Space Awareness Collection - the ultimate toolkit for dog owners who prioritise their furry friend's comfort and well-being. This collection includes two essential items, each designed to communicate a clear message to those around you when you're out and about with your dog.
Collection Contents:
🟡 "IGNORE MY DOG" 77mm Button Badge 🟡
Let your voice be heard with this eye-catching 77mm button badge. Crafted with care, it's the perfect accessory to alert people that your dog needs a little extra space and would prefer to be ignored.  
Features:
Dimensions: 77mm diameter button badge.
High-quality, attention-grabbing design in yellow.
A bold and clear message to let others know that your pup needs some personal space
Wear it proudly on your walks, hikes, or outings with or without your dog. This eye-catching badge is perfect if someone strikes up a conversation with you. It politely conveys that your dog requires a little extra space and consideration.
🟡 "IGNORE MY DOG" Canvas Lead Slip Cover 🟡
Our canvas lead slip cover is a practical solution for dog owners who want to ensure their pets have the space they need. Crafted with meticulous attention to detail, this slip cover is both functional and stylish. It's designed to fit most leads and is particularly perfect on our yellow double-ended training lead.
Features:
Durable canvas material for long-lasting use
Embroidered on both sides for fade resistance after washing
Reflective trim on the top and bottom for visibility during dark winter evenings
Dimensions: Approximately 38 x 6cmsSecure popper fasteners to hold the cover in place on your lead or flexi-lead
Washable at low temperatures for easy maintenance
Let's make every walk a stress-free adventure!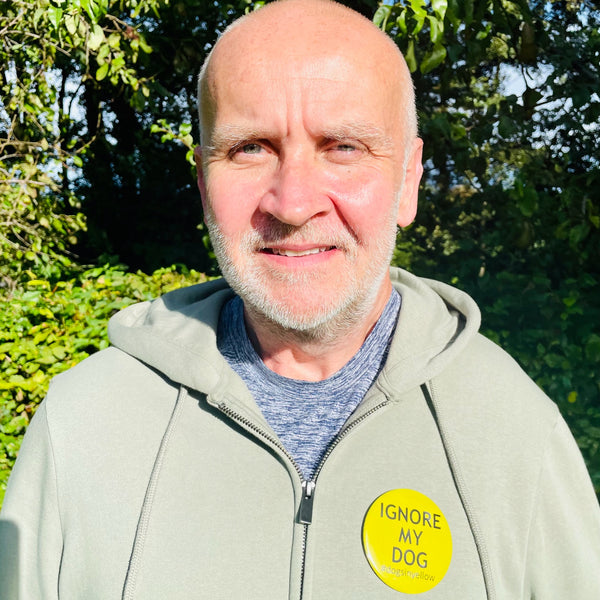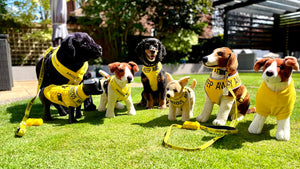 Helping you to let others know your dog needs space - join our yellow army #dogsinyellow