Enrichment Licking Mat Purple Bones
Licking soothes and calms your dog. The complex pattern extends licking time 
Spread your pet's favorite soft treat across the surface of the emat, ensuring the treat is pushed down into the surface of the mat. 
Calm your dog through licking.
Entertain your pet. 
Promotes fresh breath, healthy teeth and gums.
Stimulates saliva to aid digestive health
This is not a chew toy.  Supervise your pet while using this enrichment mat.  If emat becomes damaged, remove from pet immediately.
This emat is dishwasher safe on the top rack.  You can also wash in warm soapy water. DIMENSIONS: 8" wide X 8" tall. .25" thick.  Weight: 6.5 oz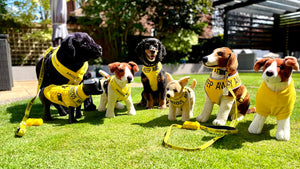 Helping you to let others know your dog needs space - join our yellow army #dogsinyellow