Tennis ball holder with carabiner clip
No more worrying about the mess or losing your tennis ball. This innovative silicone holder offers a simple and practical solution, ensuring you always have a clean and accessible ball while walking your furry friend.
If you have an anxious or reactive dog who loves their ball, this holder offers a fantastic solution to help redirect their focus and create a positive and engaging experience.
The lightweight and portable design of the holder allows you to take the ball with you wherever you go. It's an ideal solution for walks, outings, or training sessions, providing you and your dog with the flexibility to engage in interactive play anytime, anywhere.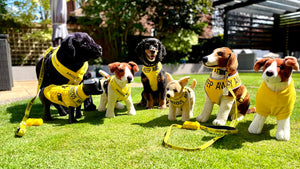 Helping you to let others know your dog needs space - join our yellow army #dogsinyellow